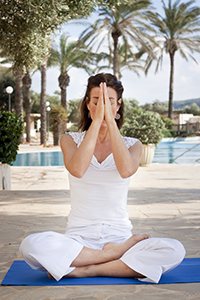 When many of us hear the word yoga, we think of a contortionist.  We might quickly write off the idea of even trying yoga because we don't think there is any way that our body could twist and bend into some of the yoga positions we've seen people doing; yet, yoga is becoming one of the most popular ways to exercise in America.
According to  Forbes in 2016, 36.7 million people in America were practicing yoga, which is almost twice the number of people that were practicing in 2012.  There's a good reason for it, too.  Aside from the emotional benefits (calming and stress relieving), yoga is believed to have numerous physical advantages.
Five ways that yoga strengthens you are:
increased range of motion
strengthening muscles that support the joints
increased bone strength
keeping your joint cartilage healthy
circulating synovial fluid in the moveable joints
Increased motion is something that is beneficial to us all – think an improved golf swing or being able to bend over and tie your shoes with ease.  Muscle strength?  We can all use that.  A body that has weak muscles will tend to rely on the joints for stability.  Over time you could be putting undue pressure on your joints due to surrounding weak muscles.  Strong bones make for healthy joints.
In the yoga journal they state that synovial fluid buildup can be reduced with yoga. They suggest this will bring pain relief to the affected areas.
Depending on your need, yoga may provide some incredible benefits.  As with any new workout program, make sure you talk to your healthcare provider before starting.  If you have a hand, wrist or elbow condition that is bringing you pain and frustration, please contact our office.  We specialize in  treating numerous hand, wrist, and elbow conditions and would love to help you on the road to recovery.
(note: While posts on this blog site are meant to be informative and thought provoking, they are not intended to be a substitute for proper medical advice or diagnosis of a possible medical condition.  Please contact our offices if you feel you have a medical condition concerning your hand, wrist, or elbow)